What is your favorite obscure metal band?

Daniel: HELL-ö occulto! OK, everything fine? First tell us how Eurynomos was founded! Where did the sudden idea come from?
Occulto: The idea or the foundation happened anything but suddenly. About two years after I left Desaster, our guitarist Aethon, who is a long-time friend, played me some loose riff ideas and said that my singing style would be very suitable. At the time I was actually "at a distance" from the scene and the musical events. But the riffs sounded so interesting and immediately grabbed me to pursue the idea further and work on it if possible. But it continued like this for the next few years. Aethon kept coming up with very strong ideas and we talked about song titles, text and vocal structures. Unfortunately, due to various circumstances, it took a few more years until we were finally able to get things done. It is therefore difficult to give an exact date of foundation, if you only take the creation of the first songs or the first permanent rehearsal as an occasion. But it is not crucial either. It is important that we are complete now and have a lot of songs up our sleeves.
Daniel: Didn't you actually do anything musically after leaving Disaster? What have you been up to in the last 14 years?
Okkulto: At the time I was pretty pissed off about my exit, the scene, all the business behavior and many other circumstances in general. For a number of years, nothing else but the band and their progress have been dealt with. I just wanted to be a "fan" without any obligations and enjoy the music the way I wanted. In addition, I was a bit tired of all the black / death metal, so I switched to the traditional hard rock and metal bands at first. For years I had lived this "Black Metal Lifestyle" so intensely that it was time to clear my head. I also wanted to try some other things in life or achieve various other goals, such as: B. in long-distance running, where I was already active in the past. I set myself time goals and wanted to see how far I can get with the corresponding one hundred percent focus on them. In retrospect, I've come a long way on a semi-professional basis and have run very good times from five-kilometer distances to marathons. But that also required all of my attention during this time. Ultimately, however, the love for music was greater, and since guitarist Aethon constantly provided me with his guitar riffs, the urge was just there at some point to close the sack and work out the songs completely. The rehearsals for the disaster anniversary in Bamberg then confirmed to me that it still works very well vocally. The reaction of the audience was then more than exuberant and encouraged us to proceed with Eurynomos.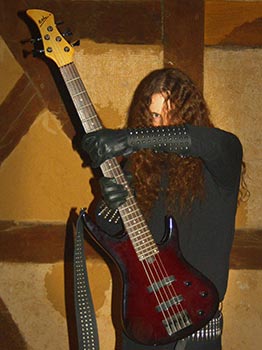 Daniel: What does the name Eurynomos actually mean?
Occult: Eurynomos is a demon in Greek mythology. He lives in the underworld and feeds on the flesh of the dead. Little is known about him, and his colors are known as "between blue and black". The somewhat obscure, mysterious thing about it also fits the style of how we see the band. Of course there is also a connection to the Hellhammer demo song somewhere, because this raw, unbridled energy is what we want to show in our songs. And of course, when it comes to heavyness, Hellhammer are still unique in their own way and set a certain benchmark.
Daniel: Which bands influenced you? And are there any new bands that you can listen to?
Okkulto: In interviews there is always an infinite amount of talk about influences, bands are mentioned, but you can't hear it in music. I therefore find it more exciting when the listeners tell us what they discover in our music. That's why we deliberately don't mention bands in interviews. I think anyone who has not only been listening to the music since yesterday and is a bit familiar with the "fathers" of extreme metal can already recognize the influences. In the end, we didn't set out to sound particularly original, but rather a kind of homage to the music with which we grew up. This type of music is also our understanding.
Daniel: What are your lyrics about? And is it just about fulfilling the usual clichés? Or is there a certain key message behind it?
Occulto: I don't think about clichés, any more than I try to be particularly philosophical. The lyrics are very important to me because they give the music its final expression. My spelling has not changed much compared to before. It can be historical background or simple horror stories from old films. Everything that is somehow obscure and mysterious can fascinate me, as well as historical or mythological events. One song of our second single "Eye Of The Pantheon" is about the mighty Pantheon in Rome, where the emperor was celebrated every year in a kind of ritual as divine omnipotence. One of our brand new songs deals with the fetters of religions and with them breaking them in order to be master of yourself again and to become aware of your own divinity. There is a lot of my own outlook on life in this. There are enough fascinating, obscure topics, the usual metal clichés have meanwhile been used in abundance by all kinds of bands.
Daniel: Is Eurynomos just an in-between project or a real band?
Okkulto: Eurynomos are definitely a one hundred percent band, with a one hundred percent serious concept. It was extremely important to me from the start to come back with a full band and the appropriate characters and not with a project. In Aethon (guitar), Magma (bass) and Vesuv (drums; replaces Nimitön) I am proud to have the right comrades at my side. We have a very clear idea of ​​what we want, and everything is tailored to this concept, from the music, to the layout, shirts, band photos and later also the live shows. It may be a little early, but in time you will find that these things follow a certain concept. Musically we have a great guitarist in Aethon, who always brings in very straightforward and gripping song ideas, which we then work out completely as a band. As I said, there are still quite a few surprises in the pipeline. After the concept with the three 7 "EPs is complete, we will immediately get ready for some live gigs, as well as complete songs for a full album.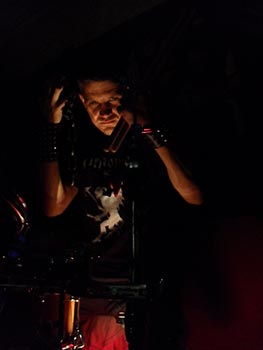 Daniel: How long did it take you to write and record the songs for your only previous release, the EP "Unchained From The Crypt"?
Okkulto: The original songs are a few years old, but we only worked them out completely with continuous rehearsals, whereby little things were changed again and again. Since we were also working on many songs at the same time, the whole thing dragged on for several months. It was also important to record as authentically as possible with the right equipment. So everything stayed in our hands and we didn't have to deal with excessive studio technology.
Daniel: As an old hand in the scene, how important is it to you that the EP was released on vinyl? And is there also a CD or cassette version of it?
Okkulto: Vinyl is still the most beautiful format for this type of music. And a single always has something traditional about it. There will also be a cassette version via Coffin Filth Records. There is still quite a lot of interest in South America and Asia. The core, however, are the three EPs in vinyl format, each with a playing time of over thirteen minutes, which is also a novelty; plus different colored vinyl versions to give the whole thing an even more exclusive character.
Daniel: How come you didn't do a demo or an album straight away with Eurynomos?
Okkulto: I had the idea for a concept made up of several singles, which are also related cover-wise, during the disaster times. But it never came to fruition because we then put more emphasis on a full album. Nevertheless, this idea still appealed to me and Aethon as well, so that we talked about a possible design etc. early on. The further conception and implementation was then also carried out by him, and the result could not have been better for me. An album will surely follow when the chapter of the 7 "EPs is completed. At the beginning I found the singles more exciting, because you follow a certain line and the songs also develop a certain amount and increase the intensity from EP to EP. That would have been difficult to do on an LP.
Daniel: Did you know from the beginning that you wanted to work with Iron Pegasus Records again? Or did it happen by chance?
Occulto: Iron Pegasus are one of the few contacts with whom I remained 100% friendly after leaving Disaster, after many people followed the disaster train. Absolute loyalty is unfortunately only rarely found in the scene, but thanks to Costa and Iron Pegasus there was and still is, even through bad times. That is why you were always the first point of contact for Eurynomos. The philosophy of the music that the label publishes, the high-quality layouts and the extremely fair, respectful treatment of the bands, as well as the focus on long-term cooperation speak for themselves. Eurynomos feel in good company with great bands like Sabbat, Pentacle, Meggido and many more.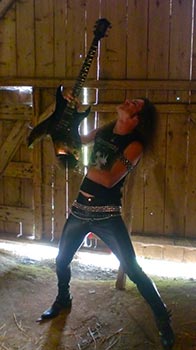 Daniel: Do you actually play live too? And if so: when, where and with whom?
Okkulto: Of course we want to perform live after the single concept is over. I still believe that the music belongs on the stage. Metal in particular, as we play it, only kindles its real fire live. There are already various offers, but it is still far too early to announce anything here. At first we will probably start with a kind of "secret gig" to test ourselves. But there will be no gigs "at any price" and it is not an absolute priority either. When we perform, we want to offer a special program including a special show because the visual aspect is very important to us. It should create a certain drama and atmosphere. If the location or the line-up of the bands does not suit to bring this show, we would prefer not to. We'll see how things develop and then decide.
Daniel: Let's briefly come to your time with disaster. You were there from 1992, but left in 2001. What were the reasons for that?
Occulto: At that moment there was unfortunately no other path, at least not a quick one that could have been taken. There was a certain rift through the band and I had already thought about it carefully. Wacken was the greatest thing you could achieve at the moment, and therefore a fitting farewell. Okay, of course it wasn't until then, especially abroad. But in the situation at the time, that would not have worked together either
Daniel: Your last concert together was a festival appearance at Wacken Open Air 2001, a festival that is now frowned upon by metal fans ... Why there? Or wasn't that planned from the start?
Okkulto: At that time, Wacken was by no means the size it is today, it was only a fraction of it. In the years before we had seen some great bands there ourselves and had legendary times with Hellbangers Moselfranken, our local metal club there. After the "Tyrants Of The Netherworld" LP we received very good offers for festivals. When the offer came for Wacken, it was an honor and, so to speak, a novelty. To come under there as an underground band without a big label behind them was an absolute exception and a sign that people really liked our music. For me it was also the culmination of years of hard work with the band, in which no one gave us anything, but we earned our spurs live.
Daniel: Did you follow the disaster after you left? Do you know their "new" singer Sataniac (since 2001!) And their four albums after they left? And how do you like them? Is there anything else you can do with it? Or do you think that they have now passed their zenith?
Occulto: To be honest, I have to say that I first avoided anything that had to do with disaster. The band was my entire purpose in life. When something like this breaks, it takes a while to realize what happened anyway. Therefore, it was also necessary to have the distance to be able to orientate yourself again and to set new goals. Disasters have made an unbelievable development, from the smallest cellar combo to big festivals, to Brazil and what do I know where. Nobody will take that away from them; one way or another, whether you like the music or not. Infernäl has a unique guitar style that you can recognize among a hundred others. And that cannot be said of many in this area.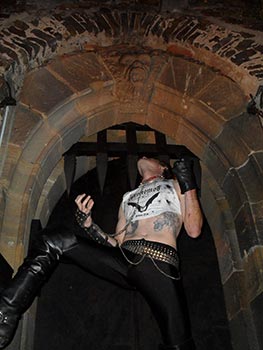 Daniel: Could you imagine ever returning to Disaster as a permanent member? Or maybe to play with Eurynomos in the opening act and a common encore part with disaster or something? Or is the topic completely off the table?
Okkulto: The experience of being in the rehearsal room with the guys again during rehearsals for the anniversary show in Bamberg and the gig itself were unique. I don't want to miss that. Once again it made you realize that you had created something special. The boys gave me this chance and I am grateful to them because that really got the ball rolling again for Eurynomos. I think they are happy with what they are doing and I am very happy to have found great collaborators for Eurynomos and to complete the songs that have been waiting for many years. We all go our own way, nobody has to miss anything.
Daniel: What future plans do you have with Eurynomos?
Occult: I never plan too far ahead, I try to enjoy the moment. We'll finish off the single concept first, with the third single that we'll probably record at the end of the year. In spring we will show ourselves live with an intense show full of drama. There are many inquiries, many fans of the old days who are really looking forward to it. For this we will complete the songs for the first full LP, although there are already some titles for this. It will certainly remain exciting, but we also want to remain unpredictable to a certain extent! The second single "Eye Of The Pantheon" will again have more than thirteen minutes of playing time and surely surpass the first in terms of intensity and drama. Release will be at the end of October! So watch out & be prepared !!!
Thanx, occulto
http://www.eurynomos.com/
Author:
Daniel Müller