Who is the jazz musician in this photo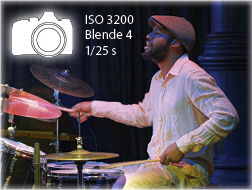 Large format photos of jazz musicians
Available light portraits of jazz concerts in Munich's "Unterfahrt"

Already in my youth I was not only concerned with photography, but I also listened to a lot of music with a self-made tube radio. My love for jazz began with Willis Conover's jazz programs broadcast in "special English" by the American military broadcaster "Voice of America" in the hour after midnight for European jazz fans.

Even though classical music later dominated my record and then my CD collection and I attended more than 500 classical concerts over the decades, jazz has always remained particularly important to me. Now at an advanced age I notice that my affinity for jazz is even experiencing a renaissance, that I listen to much more jazz at home with my hi-fi system than classical music and that I visit my favorite jazz club far more often than all of Munich's concert halls combined.

Combine the joy of music with that of photography
In classical concerts, photography is frowned upon and is usually not allowed by the organizer. I respect that because I can empathize with the fact that many concert-goers feel disturbed when the person sitting next to them is constantly handling a camera. But things are much more casual in the jazz club: the listeners sit at tables, drink beer or wine, and some people use the gastronomy offered there for a small dinner not only in the waiting time before the start of the program, but also while the musicians play on the stage . Nobody bothers here when I take photos. Others do it too, mostly with a smartphone, iPad or other tablet. This is actually much more annoying because the large screen shines brightly towards the back and often automatically flashes an LED light that is more harmful than useful for the photo when the shutter is released.
Until the beginning of 2015 I only occasionally had a small camera (most recently the Lumix LX7) with me in the jazz club and only took a few photos. Then I took a quiet MFT system camera Olympus E-M1 with me, initially only to test the suitability of a new, high-intensity telephoto zoom for such recordings. I was so impressed by the surprisingly good results that this camera has accompanied me with three lenses every time I visit the "Unterfahrt" - the standard 2.8 / 12-40 mm zoom for the relatively few recordings of the entire stage or of groups of several musicians , for recordings of individual musicians the ideal bright telephoto zoom 2.8 / 40-150 mm and for recordings that require the shortest possible exposure times, the 1.8 / 75 mm.

This is how my jazz musician photo series came about over the course of two years
At the first three or four jazz concerts in the "Unterfahrt", which I documented, I was only interested in souvenir photos. But because the results were surprisingly good, I had large pictures made of the best pictures on canvas. They then looked much better and were highly appreciated by our guests. So I decided to move on to a series of jazz musicians ready to be exhibited. Now, over two years later, I already have enough live jazz portraits to present a real "photo gallery" here on my website in the form of a PDF file.
The first five pages with an overview of small-format images provide the relevant information: names of the musicians or groups with full line-up (instruments), the date of recording and finally the most important technical photo information (camera, lens, used focal length, ISO setting, aperture, shutter speed and EV correction). Each of these currently 58 photos can be displayed in full format by clicking on the relevant small picture. The large images are reduced to 2000 x 1500 pixels for short loading times, compressed to a file size of approx. 1 MB and provided with a slightly visible copyright band to protect against copyright infringement. To return from one of the large pictures to the overview page with the texts, click on the "Info" button at the bottom left of the picture. Otherwise, as with any PDF file, you can scroll through the gallery forwards and backwards using the forward and backward arrows in the upper left corner of the PDF window frame.

Which photos do you like the most and which ones least?
My first photo exhibition of 40 portraits of jazz musicians took place on February 20th. took place in Munich until April 12th, 2017. I will certainly take many more photos from time to time in the future. However, because exhibitions can only contain a limited number of pictures due to space and cost reasons, I will always have to make a selection, and you can help me: I will be happy if you would be willing to briefly tell me which pictures (each has a number at the bottom right) you like best and which one you like less. As a photographer, you see your own pictures differently than uninvolved "neutral" observers because of the knowledge of the respective circumstances and difficulties in taking them, and possibly also because of your personal relationship with the people shown. So your judgment is important to me. Please write to me using the email contact form or a normal email to the email address given on the home page. Thanks.

If you, as a jazz and photo fan, should particularly like a picture ...
... and you would like to purchase it signed as a wall decoration, you can print it (of course in full resolution and without copyright banderole), for example, on linen in the format 60 cm x 40 cm or as a real photo on aluminum dibond in the format 60 cm x 45 cm to buy. The prices for these or larger formats are available on request. I would like to point out that, regardless of the image format, I guarantee that the edition will be limited to 5 copies per motif. So you don't get mass-produced goods.

Now click on the following image to open the photo gallery as a PDF filen
It is advisable not to view this PDF file in the browser, as the individual pages can appear shifted vertically when scrolling through or after calling up via a link, instead of being centered in the window. It is better to download the PDF file to your own computer and then double-click it to open it with Acrobat Reader and view it.