How are pearls and beadwork different
The collection area pearls and pearl work

Typically, man-made beads made of glass, stone, agate and carnelian, bones, metal, amber, coral, feathers and seeds, etc. are collected. Sea water pearls that were created in shells do not play a role as collectibles.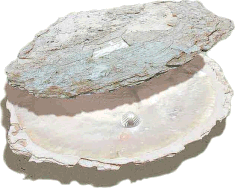 Definition of pearls: Pearls are shaped or natural objects that have a central perforation. If the perforation is outside the center, the pearl becomes a "pendant", = "pendant".
Pearls appear individually, as part or decoration of an object (e.g. piece of jewelry) or strung on a thread as a chain.
The term pearl is derived from the Italian perla, the origin is probably vulgar Latin. The German language does not differentiate between shell pearls and other pearls. In English the word "pearl" stands for shell pearl and "bead" for all other pearls. The word bead has its origin from praying, the pearls of the rosary were used to determine the word.

Humans have adorned themselves with pearls for 35,000 years. The first examples from natural materials are z. B. mussels, bones, animal teeth and seeds. From approx. 14,000 BC. BC was also worked on rock. From the middle of the 2nd millennium BC The production of glass beads began.
The centers of glass production in Europe were Murano (from around the 15th century), later also Gablonz (after World War II, the glass workers fled to Neu-Gablonz near Kaufbeuren), the Netherlands and Germany. For world trade, pearls from Murano, Gablonz, Holland and Germany were particularly worth mentioning. In Germany, Lauscha should be mentioned with a small but interesting range of hollow, mirrored and partly wax-filled pearls for the collector. In the Bavarian Forest there were a few glassworks that made pearls. For example, ring-shaped pearls. In Hessen, Hessenglashütte also produced glass beads, among other things.
From Europe, the glass beads went to trading posts all over the world. Sample cards from the pearl manufacturers gave missionaries and dealers information about which kind of pearl was needed for a certain barter item (e.g. for palm oil, gold, ivory or slaves, see Dumont Verlag "All pearls of this world") some tribes didn't want pearls that weren't in their favorite colors. The right or wrong pearls in the luggage of an expedition could make the difference between success and failure. The pearls that were important here are therefore also called "trade pearls". English term "Trade Beads" or "Trading Beads". Large agate pearls from Idar Oberstein were also very popular in West Africa.

In the middle of the 18th century, around 20 tons of glass beads were produced weekly in Murano and mainly sent to Africa. All collectors benefit from these enormous quantities today. Collecting pearls, especially glass beads, is a worthwhile activity. The objects are affordable for their age. They have an interesting history and names that are worth finding out. They are usually small, handy, portable and decorative.
Pearls have always been a means of payment since early history. Like cowrie shells and other forms of money, pearls had a certain value. Often they were part of the bride price. For this reason, pearls are important collectors' items for collectors in the primitive money area. Because of their importance as a form of money, they can also be admired in the Bundesbank's Money Museum in Frankfurt.
A selection of popular collector's pearls (very subjective and incomplete):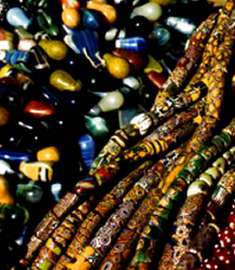 Millefiori pearls
floral patterns in all colors, mostly cylindrical, more rarely round.
Chevron
Pearls with star pattern at the ends, 12 points after the 12 apostles. Also called Rosetta (Italy), star pearls, starbeads or aggry pearls (old name). They usually have 4, 6 or 7 layers in blue, white and red, rarely a different number of layers or colors. Chevron beads have been around since the 15th century. Some scientists claim they have been around since ancient times. However, this has not been proven.
Eye beads
All pearls with eyes or dots. Very popular since ancient times.
Cornaline dÀleppo
white or yellow core red on the outside, Cornaline means carnelian
Fancy beads
Ornamental patterns, fantasy patterns, often with gold, aventurine
French Ambassador
an elongated olive shape with a floral pattern and dots on a black background
From Gablonz:
Faceted pearls
All colors, sizes and shapes, various numbers of facets.

Russian beads
Not from Russia, always blue and faceted.

Pear or wedding pearls
very colorful, monochrome or with a pattern, zebra stripes, herringbone etc., approx. 50-75 years old, worn in Mali at weddings
From Idar-Oberstein
Agate and carnelian pearls
different shapes and colors
From Lauscha
Hollow glass beads, pressed beads and neon beads

Hollow pearls mirrored with "fish silver"
From Africa
Kiffa
from the town of Kiffa in Mauritania, colored or blue, often triangular, more like counterparts

Bodum pearls
from Ghana, very valuable!

Krobo
Ghana, made of glass powder, rather cheap
Kano or Hebronbeads
mostly yellow, less often green, less often matt turquoise. Made of glass made with Dead Sea salt)
Gold pearls or bronze pearls from West Africa
Spiral patterns, ornaments with animals. Casting using the lost wax technique. Ashanti and Akan peoples.
Ancient pearls that are much rarer, more expensive and harder to get
Mosaic glass beads from Scandinavia (Vikings) checkerboard, floral and star patterns or even earlier from Egypt
Pearls with raised eyes from China (HAN period)
Face beads (mosaic glass) from the Romans, but also from 17th to 19th century Murano
Glass head pendants and eye beads from Phenicia
Pelangi, rainbow pearls from Indonesia
Etched carnelian beads with geometric patterns from the Indus valley or Mesopotania
Dzi pearls from Tibet (quite the most expensive, but often fake)
... the list goes on and on for a long time
Beadwork
There are also beautiful beadwork in European folk art. Plastic figurative beadwork comes from Zaire. There are also artistic works by the Yoruba (Nigeria). In addition, the pearl embroidery and pearl weaving of the North American Indian peoples are very noteworthy.
The standard work for the pearl collector is the book "A History of Beads" by Louis Sher Dubin published by Thames and Hudson. The German edition "All pearls of this world" was published by Du Mont Verlag. Out of stock at the moment.
There are a number of other interesting books for the pearl lover. However, some are only available in English.
Mention should be made here:
Robert K. Liu: Collectible Beads
Peter Francis: Beads of the World
Sibylle Jagstorf: Glass Beads from Europe
Picard: Pearl Cards Volumes I-VII
J.D. Allan: Magic Ancient Beads
Marascutto: pearl Venetian
Author's note:
I've been interested in pearls since 1988, mainly glass pearls from the African trade. I have all the information from the books mentioned above and the book Pearls, Archeology, Techniques, Analyzes. Boarding school Pearl Symposium Mannheim 1994 and from discussions with other collectors. I collect pearls myself, but I do not trade in pearls and the above statements do not claim to be flawless and complete. There are many different opinions, especially when it comes to pearl names.
R.U.